Hi all!
* Products provided for review. *
Back in March I posted about all the belly creams I've tried during my pregnancy so far and Palmer's Cocoa Butter Formula Massage Cream for Stretch Marks was my winner. So I was quite excited when I received the entire Coca Butter Stretch Mark line to review!
This line consists of a Massage Lotion, Massage Cream, Tummy Butter, and Skin Therapy Oil.
Scent
The Massage Lotion, Massage Cream and Tummy Butter all smell like cocoa butter and I LOVE it! I just want to roll in it all day long.
The Skin Therapy Oil does not smell like cocoa butter, instead it has a rosehip fragrance. I'm not familiar with the scent of rosehip, but I find the scent of this oil very pleasant. This also smells really good mixed in with the cocoa butter scent of the other products.
Cocoa Butter Formula Massage Lotion for Stretch Marks
This product is an all over body lotion and I use it on my legs and arms. I sometimes use it on my belly in combination with the Tummy Butter.
It has a nice creamy formula that is thicker than some body lotions, but given how dry my skin has gotten since getting pregnant this lotion is perfect for me. Also with that yummy scent that it has I just slather it all over like I'm a cake and I'm putting frosting on it. Bring it on, lol!
A little goes a long way with this lotion. I use one pump per leg and one pump for both arms, but I could probably do with less for each body part.
Hypoallergenic – Paraben Free – Phthalate Free – Dermatologist Tested
Cocoa Butter Formula Massage Cream for Stretch Marks
This cream is intended for the tummy, hips, thighs and bust, and that's exactly where I use it.
This is the product that made me fall in love with this line. That cocoa butter scent is just SO YUMMY! And this product moisturises super well. When I take my shower 24 hours after applying this cream my mid-section still feels slippery, like I just put it on. So I know once I slather it on that I don't have to worry about reapplying later in the day. Especially on the tummy since it can get dry and itchy from all the stretching that it does during pregnancy. This cream works wonderfully!
Hypoallergenic – Paraben Free – Phthalate Free – Dermatologist Tested
Cocoa Butter Formula Tummy Butter for Stretch Marks
This product, like the name states, is for the tummy. This is an intensive treatment for stretch marks during and after pregnancy and weight loss.
This product is hard and I scrape it out by using the front of my finger (with the nail). But once you rub it between your hands it melts really fast and applies very well. It is more on the greasy side than the Massage Cream though, but it's not oily like an oil product.
I use this in combination with the Massage Lotion, and I alternate between this and the Massage Cream (by itself) for my tummy.
Hypoallergenic – Paraben Free – Phthalate Free – Dermatologist Tested
Cocoa Butter Formula Skin Therapy Oil for Stretch Marks
I'm not a big fan of body oils because I don't find that my skin absorbs them well and it seems that my clothes get more of it than my skin. But I still tried this product a few times to see how it felt, and to me it felt the same as the other oils that I've tried.
If you're a fan of Bio-Oil then you'd definitely love this one. I'm just not a fan.
This oil can be used on the face as well and I've been having really dry skin on my face lately – with lots of flakiness – so I've used this product on my face and I really like it. I don't use it daily because I forget, but I usually use it at night and I find the scent soothing and relaxing. It has not caused any breakouts either, so that is good.
Preservative Free – Phthalate Free
This oil has a pump dispenser, and the oil itself is actually a light orange shade.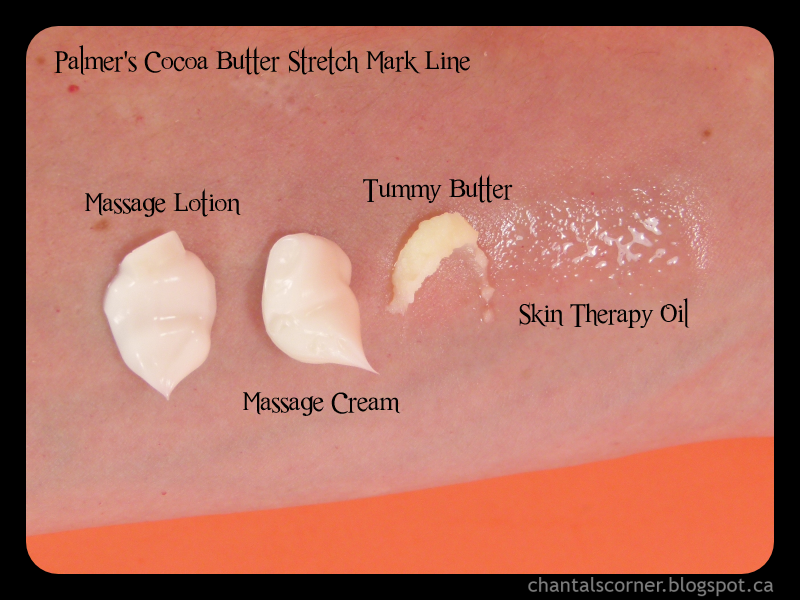 Final Thoughts
The scent of these products is just heavenly! I mean, seriously, COCOA BUTTER! I've stopped wearing perfume since I started using these because I just want to smell it all day! My husband approves of the scent as well. 😉
I will definitely repurchase the Massage Lotion and the Massage Cream (that one I already repurchased), those two are my favourites. I really like the Tummy Butter too, but I don't use it as often (cause it means 3 products instead of 2 – takes more time) so it will last me a while. As for the Skin Therapy Oil, that one will last quite a while too, but I don't plan on purchasing that one cause I'm just not a fan of oils.
Check out Palmer's Facebook Page to find out where you can buy these yummy products. Just as FYI – I buy mine at Shoppers Drug Mart and these products are in the baby section; they're not with the regular body lotions.
Have you tried these products? Do you go gaga for the cocoa butter scent like I do?
– Chantal 🙂
Computer geek by day and super mom by night, Chantal loves to try products of any kind and share her thoughts with the world.