Hi everyone!
John Frieda recently released new product lines to alter your hair colour either by lightening it or deepening it and today I'm sharing with you their Brilliant Brunette Visibly Deeper line.
Brilliant Brunette Visibly Deeper Shampoo
The shampoo cleanses well and I find you need a regular amount to get a good cleanse – not more or less than what I would expect. Because of its brown colour it creates milk chocolate coloured suds, which make me crave chocolate every time I wash my hair, lol! It does not smell like chocolate though, I find it has a strong perfumy scent. I did get a bit used to it, but I still find it smells strong.
Brilliant Brunette Visibly Deeper Conditioner
Since cutting my hair to a pixie cut at the end of February I've stopped using conditioners, this is the first one I've used since. I find it has the same strong perfumy scent as the shampoo. Even though my hair is short I can tell that it makes it softer. I find I need more products to do my hair now because it's just sleeker and softer than it was before.
Brilliant Brunette Visibly Deeper Colour Deepening Treatment
This product has the same scent as the other two products. I'm not sure if you're supposed to wash and condition, or just wash your hair before using this treatment because on this product it says to use after the shampoo, but on both the shampoo and conditioner it says to use after the conditioner. I'm guessing either way it doesn't matter. I only shampooed my hair before using this product (no conditioner).
You can leave this treatment on for 5-10 minutes depending on how deep you want your hair to get, so I left it on for 10 minutes to see the full effect of what it would do. After I rinsed it out my hair felt clean like it did after I shampooed it, I didn't feel like it left any kind of residue behind.
Results
Let's take a look at how these products worked for me:
Natural hair colour;
After 10 days of using both the shampoo and conditioner;
After using the Colour Deepening Treatment (after the 10 days of #2).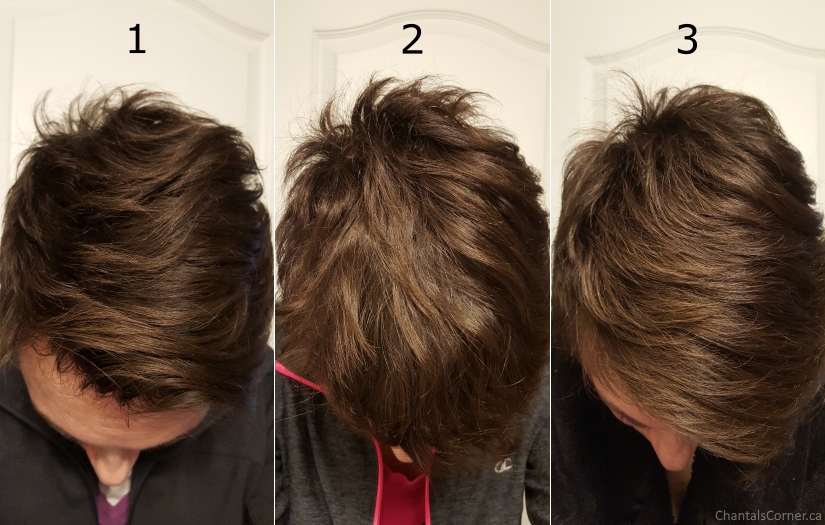 I did my best to stand in the exact same place each time to get the same colour output in my pictures. It's not 100% perfect, but it's close enough that you can tell that my hair colour did not change at all. If anything, it almost looks like it got a tad lighter instead of darker! But I think that's due to the direction my hair is in and how it reflects the light. My husband disagrees and says that it is lighter, regardless of hair direction. What do you think?
Final Thoughts
I wasn't expecting these products to deepen my hair that much, but I was still expecting a little something. I know my hair is dark to start with so these might work best on people with a lighter hair colour. You can use the Colour Deepening Treatment as often as you want so I might have seen more of a change if I used it daily, but I don't have time to do it daily.
I'm not a fan of the smell either, it's just too strong for me, so I don't see myself finishing these products.
What do you think, is this something you'd like to try?
– Chantal 🙂
I received these products complimentary from Influenster for testing purposes.
Computer geek by day and super mom by night, Chantal loves to try products of any kind and share her thoughts with the world.