Hi everyone!
Were you born with long, full and fanned out lashes? I was not. Don't get me wrong, I like my lashes – they're a decent length and volume, and a good mascara will add the extra oomph that I like to give them. But, if you've been following me for a while you know that I have an EXTREMELY hard time to find a mascara that will not give me raccoon eyes or flake on me (check out all of my mascara reviews).
My friend Vanessa owns her own spa, Nail Beauty Lounge, and eyelash extensions is one of the services that she offers. She was looking at using a new brand of lashes and asked me if I wanted to be her guinea pig to see how they look and feel, and how the glue works and feels. Of course I jumped at the opportunity!
With regular eyelash extensions you get one extension per lash, but Vanessa gave me a Russian Volume effect which is three to five extensions per lash (depending on your own lashes), and wow what volume! Let's take a look at these babies…
Hello lashes!
Oh GAWD I love the effect! It's seriously THE solution for me!!!
Here is how they kept up in the following weeks.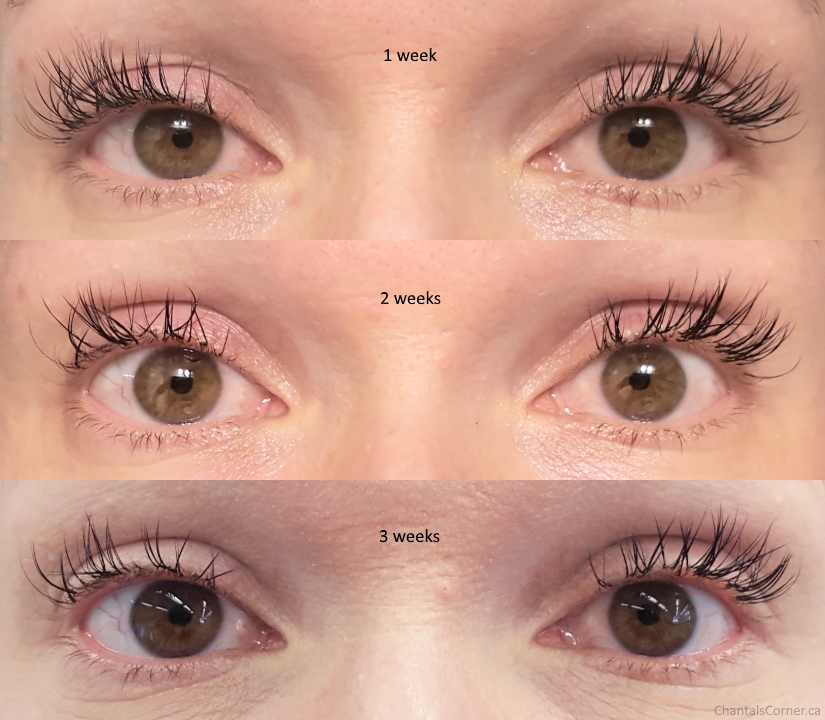 Almost three weeks later…
At three weeks is when you would usually go get them filled up depending on how your lashes grow out (could be sooner or later), but I let mine grow out. Here are a few more weeks of wear.
After five weeks they were starting to get a big scarce so that's when I started wearing mascara again.
A few things to know about eyelash extensions:
When you go get eyelash extensions you need to arrive without eye makeup – obviously. You're lying down for this and she places an eye treatment patch under your eyes, and she hides your bottom lashes underneath it so that they don't get glued with the top lashes, and your under-eyes get a little treatment at the same time.
Application takes an hour to an hour and a half depending on the effect you're going for.
Before you leave you'll get a spoolie brush (mascara wand) so you can brush your lashes every day when you wake up.
You cannot use any oil-based products on your eyes because it could affect the glue and you could lose your lashes faster.
You cannot rub your eyes when wearing lashes or you might remove some – rub at your own risk.
When taking your shower try not to have the water hit your eyes directly (for example when washing your face).
There is an eyelash protector that you can buy (it looks like a clear mascara) to help prolong the wear of your false lashes, especially in the hot and humid summer weather. It also fortifies your natural lashes.
Prices vary depending on the effect that you want. See Nail Beauty Lounge's price list.
Have you tried lash extensions? Would you?
– Chantal 🙂
Computer geek by day and super mom by night, Chantal loves to try products of any kind and share her thoughts with the world.