This month's them with the Canadian Beauty Bloggers is May Flowers so I figured that this was the perfect time to finally do a nail art I've been wanting to do for so long: Cherry Blossom! I did this nail art a little over two weeks ago for Mother's Day.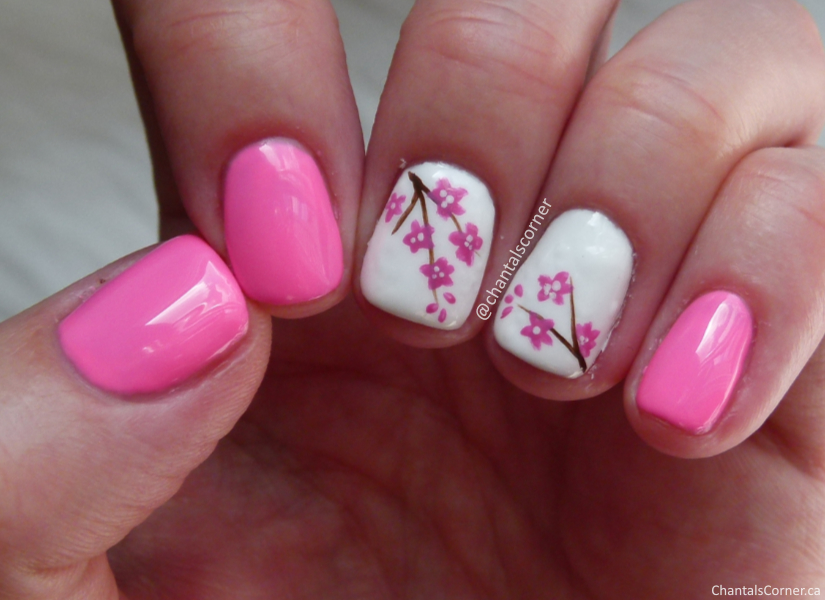 For this nail art I used:
Candy Coat gel base coat
Candy Coat gel nail polish in 509 (pink) x3 coats
Born Pretty gel nail polish in white x3 coats
Acrylic paints
Candy Coat gel top coat
I was excited to finally try the pink gel nail polish I received in my Candy Coat Feb Box and it looked even better than I imagined it would! I applied three thin coats and it looked flawless! The white from Born Pretty was not so flawless. This is the one I bought in a duo pack with the black gel nail polish and I went a bit too thick with my coats. It didn't fully cure and when I woke up the the following day it was all bubbled under the top coat. Ugh! Oh well, lesson learned, again!
For the flowers I was inspired by this pin. But I don't know who made it. 🙁 To draw the branches and flowers I used acrylic paints (the kit in this post) because it makes things so much easier! I first did the branches with a dark brown, then I added the flowers in pink, and I finished with white dots inside the flowers. I then covered everything with a layer of gel top coat, and voilà!
Apart from the bubbling of the white nail polish, I love how these turned out!
This was the perfect nail art for Mother's Day and I'm happy I crossed this one off my nail art bucket list!
Have you ever done cherry blossom nail art?
– Chantal 🙂
You may also like…
Computer geek by day and super mom by night, Chantal loves to try products of any kind and share her thoughts with the world.